About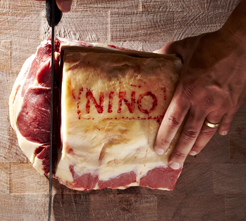 Family and Tradition, two things we hold sacred
Nino's and Joe's was established in 1984 at 341 Victoria Street, Brunswick. Nino was already well known for his previous butcher shop in Victoria Street, West Melbourne, where he started butchering in 1968 at the age of 15. Fausto, who served his apprenticeship under Nino, joined as a partner in the late 80's.
In 2004, we moved to our current premises, 317 Victoria Street, Brunswick and Nino's three sons, Robbie, Peter and Anthony who served their apprenticeship under Nino and Fausto were added to the Nino's and Joe's family as partners. So continues the family tradition and service, the old fashioned way. The rest of our staff are either family or long term employees with the same commitment to personal service for every customer, whether you need a couple of steaks for the evening or a side of beef for a gathering.

Nino Agnesi - Managing Director
A butcher since 1968, Nino has always been concerned with buying top quality meats at the best possible price. His motto is, "If I would not eat it, I will not sell it."

Fausto Negri - Managing Director
Fausto is primarily responsible for our wholesale department, with his long-term experience he is more than qualified to advise our wholesale customers.



Robbie, Peter & Anthony
Robbie, Peter and Anthony Agnesi What can we say about the boys? Butchering is in their blood.

Nino Jnr. Muscara
Nino Jnr. started working at Nino's and Joe's at the age of 16, he is now responsible for the Boning Room, where all our products are cut and prepared for our wholesale department.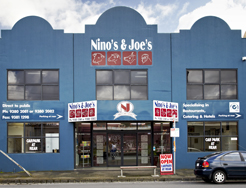 Registered with the Victorian Meat Authority Licence No P00935

Holders of Certificate of registrations, ASFS 151/03 (issued by SGS International Certification Services Pty Ltd), certifying that the HACCP Based food Safety System has been assessed and meets requirements of Australian Standards as prescribed by the VMA.

Quality assessed and documented by an independent quality assurance inspector on a daily basis. All our personnel are conversant with Environmental Health, Safety and Quality Assurance Standards meeting safety standards as stipulated in the Food Act 1984.